The Covid-19 vaccine rollout in England has entered its next phase, with the health secretary telling the BBC a jab has been offered to everyone in the UK's top four priority groups.
In total, more than 15 million people in the UK have had their first dose.
The rollout in England has officially been expanded to those aged 65 and over and younger people in at-risk groups.
But Matt Hancock said there was still "some way to go" before easing lockdown.
Mr Hancock told BBC Breakfast: "At the latest count there are still over 23,000 people in hospital with Covid – that's more than in the April peak."
However, take-up of the jab varies, with only about two-thirds of social care staff receiving the vaccine, he added.
In a bid to encourage those in the sector to have the jab, Mr Hancock said: "It is the right thing to do.
"It is very important that you come forward and take up this vaccine. It's important for you, it's important for your patients and of course it's important for the whole of society."



This is an important milestone, but just that – a staging post in the race to vaccinate the vulnerable.
Most Covid deaths have come in the over-70s age group, but just over half of hospitalisations have.
It means there are a significant number at risk in the 50 to 70 age group as well as younger adults with health conditions.
They have been promised a jab by the end of April.
Achieving that will be no easy task. From March people will start needing their second dose, which means the rate at which new first doses can be given is expected to tail off.
As always, everything depends on supply.
The UK is getting less supply of the Pfizer vaccine at the moment than it expected at the start of the year because of the problems with manufacturing in Belgium.
This, the company hopes, will be rectified in the coming weeks.
AstraZeneca supply lines remain strong and by Easter the first deliveries of a third vaccine made by Moderna should arrive. There can be no let up.


It is 69 days since the UK began its mass vaccination programme – and six weeks since Prime Minister Boris Johnson said he hoped "with a fair wind in our sails" to be able to offer a first dose to the four priority groups by 15 February.
That meant vaccinating all elderly care home residents and their carers; everyone over 70; all frontline health and social care workers; and everyone with a condition that makes them extremely vulnerable to the virus – a total of 14.6 million people.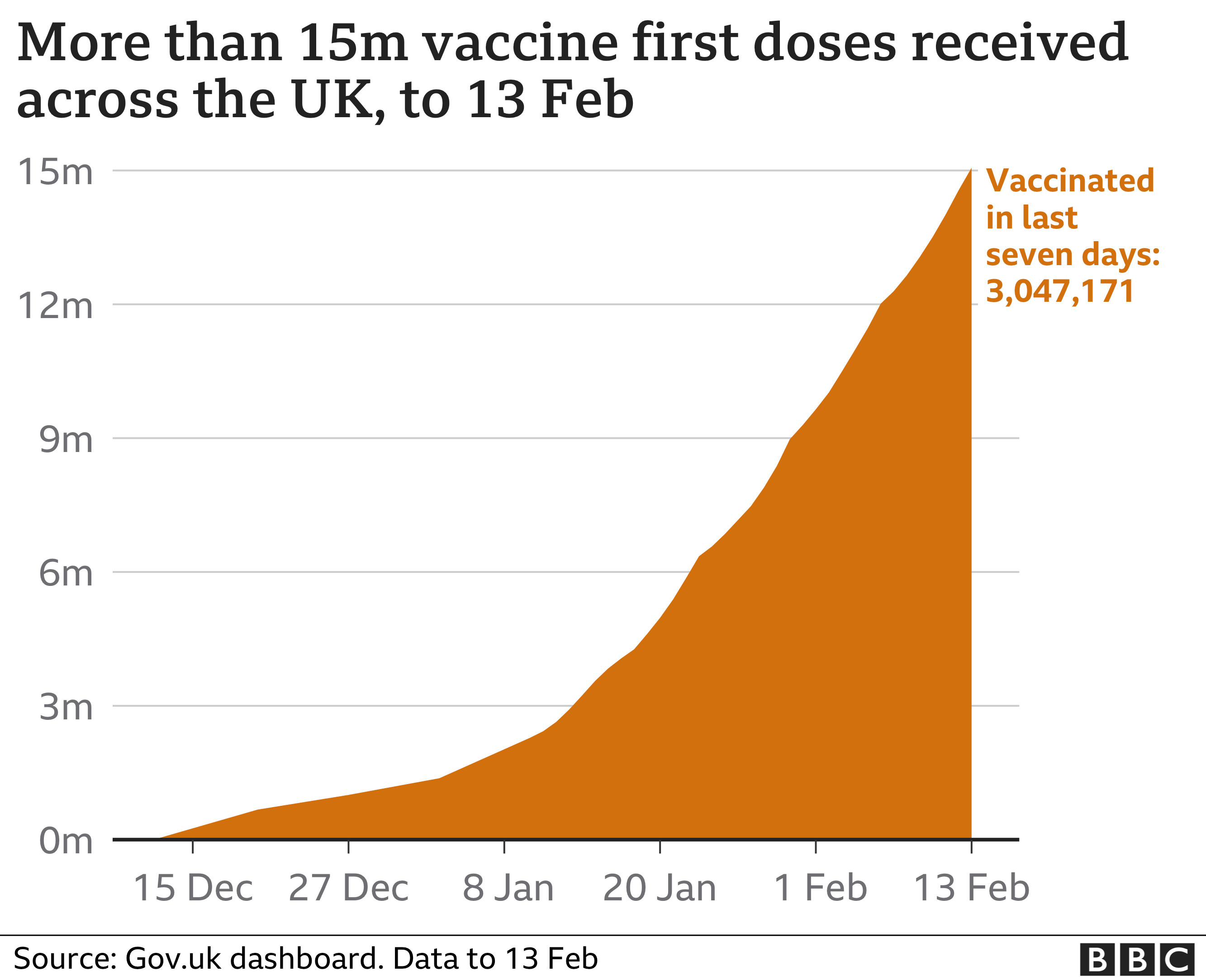 Mr Johnson has hailed the vaccine rollout as an "extraordinary feat" and said the country can go into the next stage "with great confidence".
He is due to set out his "road map" out of lockdown on 22 February.
But while the UK's vaccination rate is third in the world, behind only Israel and the United Arab Emirates, there have been reports that some people in priority groups – including those who are housebound – are still waiting for their first dose.
As well as the over-65s, the next group to be offered the vaccine is the estimated 7.3 million people aged 16 to 65 with a range of health conditions that put them at risk from the virus.
It includes people with chronic heart disease, liver disease, kidney disease, diabetes, severe lung conditions, severe learning disabilities and mental health conditions such as schizophrenia and bipolar disorder.
Adult carers of disabled people with these conditions, and younger adults in care homes, are also part of this group.
The rollout will then be extended to the remaining over-50 age groups, with the aim of offering a first dose to another 17.2 million people before the end of April.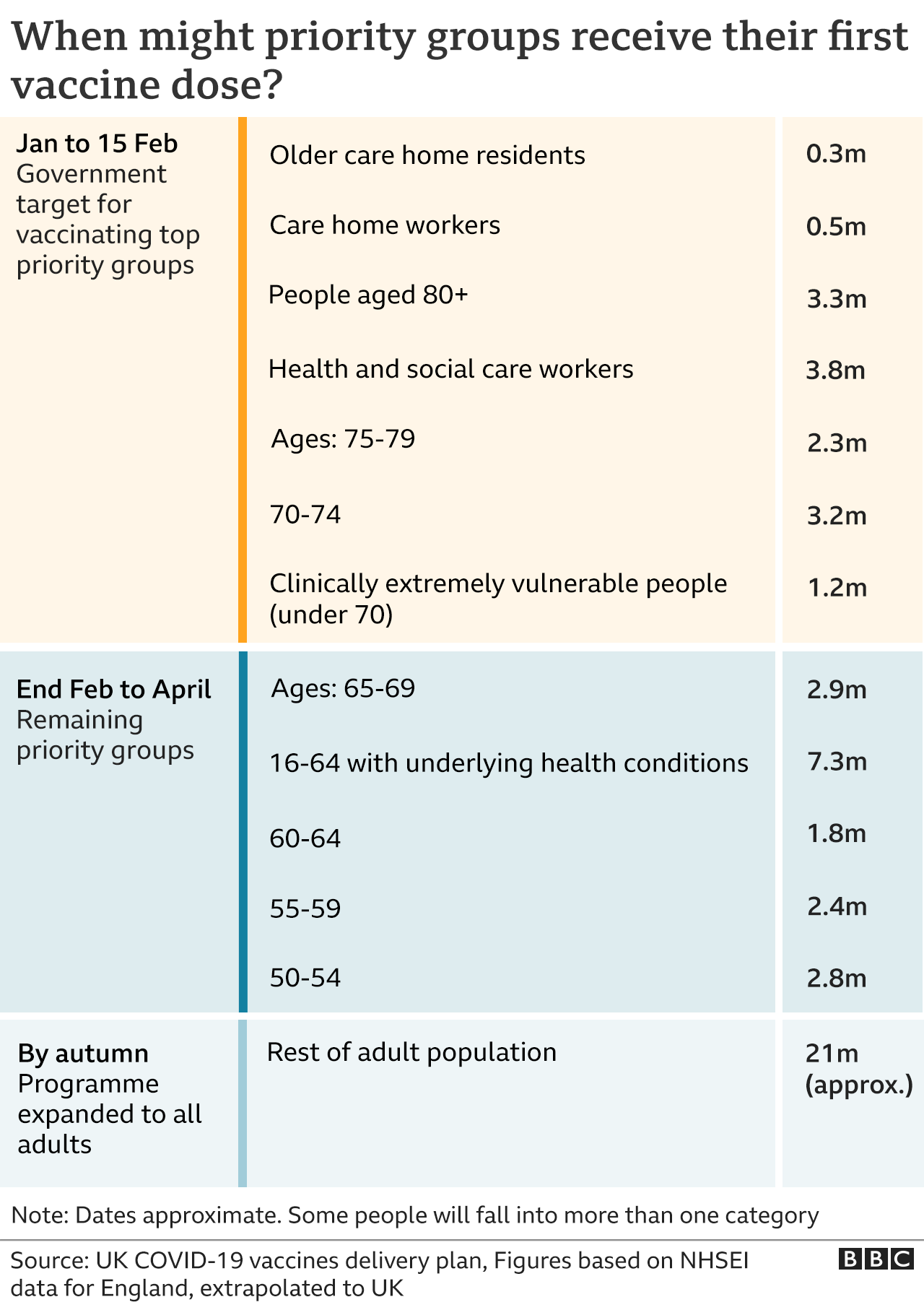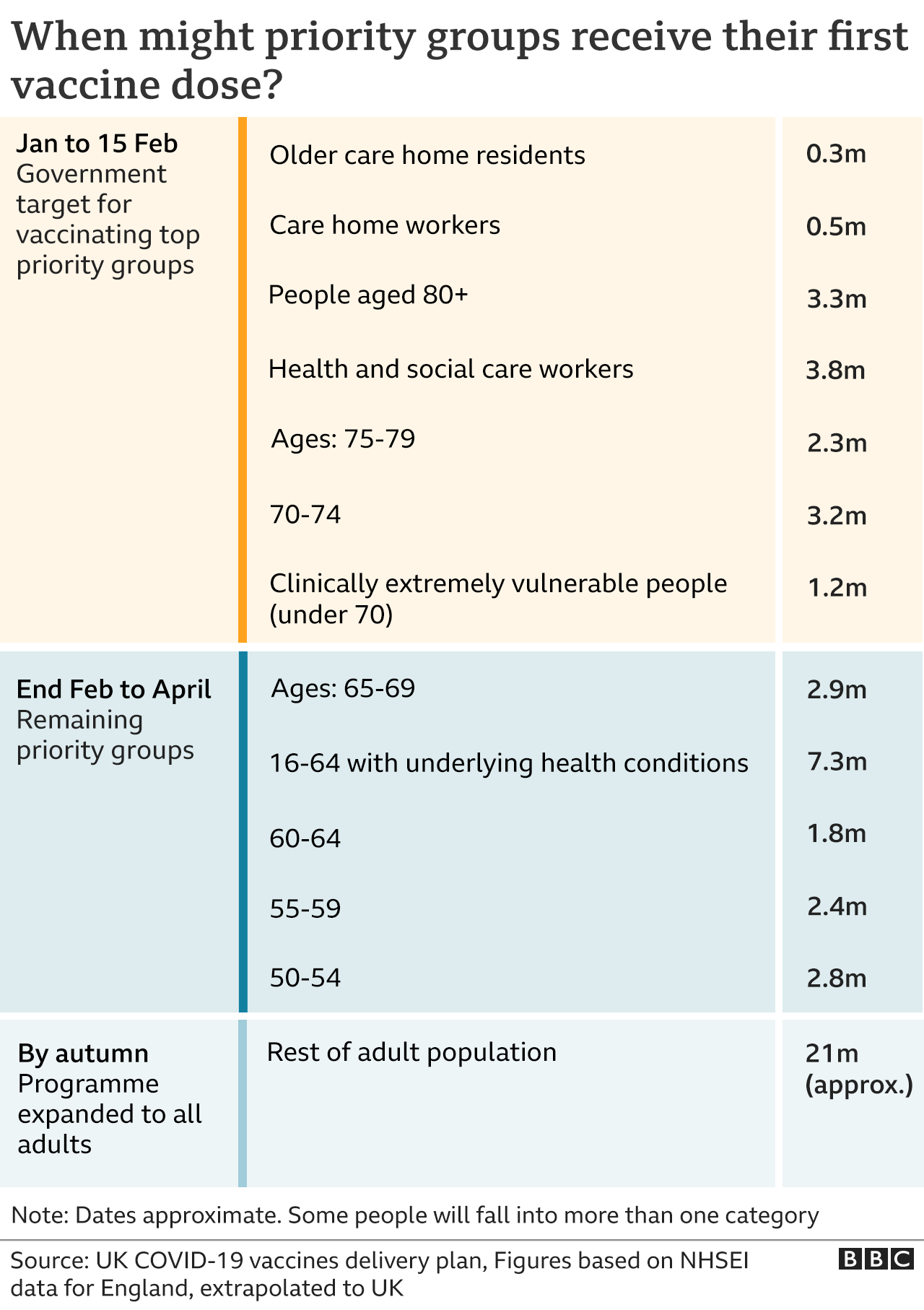 Mr Hancock said that 90% of the over-70s had accepted the vaccine – a "much higher uptake than we could possibly have hoped for".
One in four adults were now starting to receive protection against Covid-19, he said.
The Department of Health says 88% of the UK's coronavirus deaths occurred in the priority groups who have now been offered the vaccine.
A small number of the 15 million people vaccinated will have been outside these initial priority groups, however, as some NHS regions had already begun giving jabs to younger people.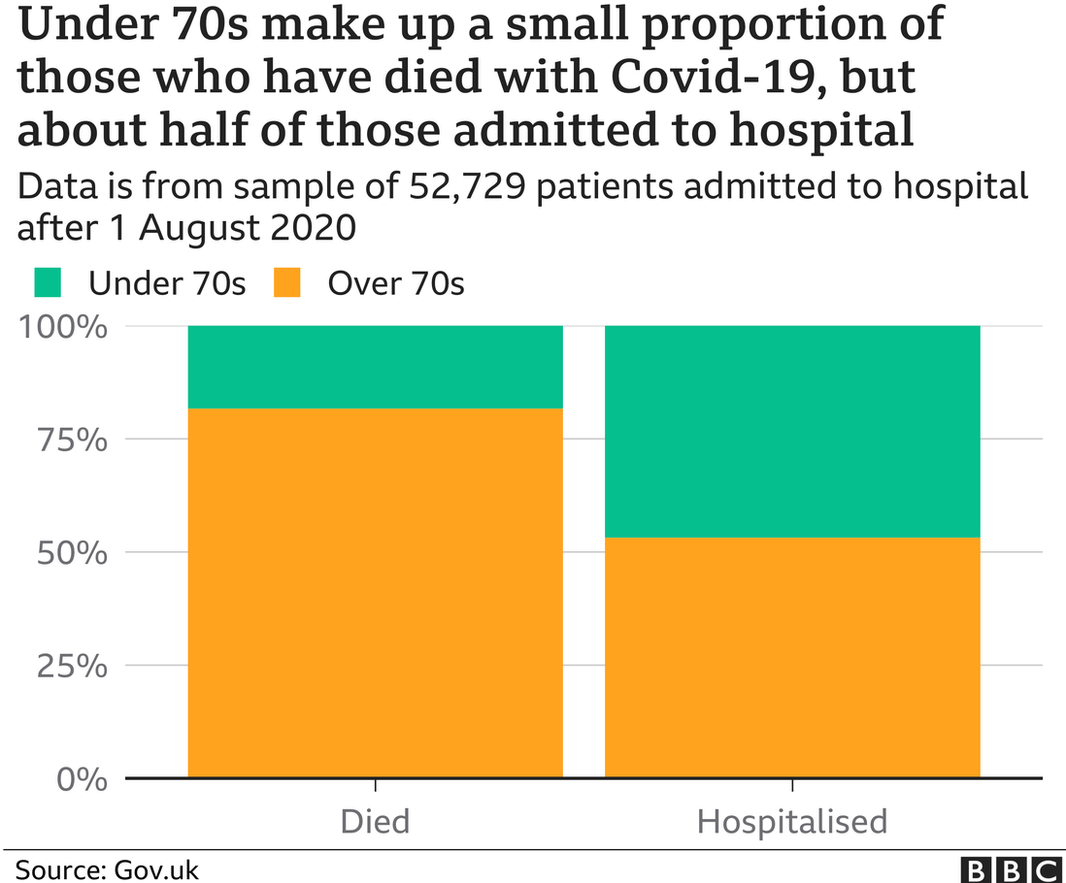 Paying tribute to the "heroes" giving vaccine doses across the country, Labour's shadow health secretary Jonathan Ashworth said it was crucial for ministers to "lock in the gains of vaccination".
He said that meant further reducing the spread of the virus by offering "decent" financial support for self-isolation, new guidance on mask-wearing, and help for workplaces to be Covid secure.
"We have already seen the virus mutate, it's urgent more is done to reduce its spread while vaccination continues at pace," he said.